This is the place to tell about what the elves taught you, and thanks them for that  

I think it's a little different from the existing threads so I made a new one, tell me if you disagree. I was inspired by this
http://elfquest.com/hunthowl/
I want to howl for...
Leetah
http://elfquest.com/read/index.php?s=OQ/OQ12&p=11
There's one Leetah I like, the one walking alone in Blue mountain in her red coat, looking for Dewshine and confronting Winnowill. She looks so tiny in that place "cold and dark", she has only her strength of will for companion but she's going all the same. She taught me that, to go on even when everything is big and frightening and senseless, to take strength from what's precious to you. And to think for yourself, even when others don't want you to.
"Winnowill... I must have words with you." Brave, brave Leetah!
And I love her clothes here! Is it the only time we see her in trousers?
Dewshine
http://elfquest.com/read/index.php?s=OQ/OQ12&p=5
For being a pretty skinny girl and a huntress both, or even a warrior! If she wants to!

For facing a situation she could neither love nor escape - the worst for a free spirit like her - and learning she could go trough it without loosing herself. For those words: "No one owns me!!" I've made them my mantra...
Cutter
Cutter taught me to trust my chance. Go on with the flow, learn to swim with it... Because he's never the one to decide what happens to him in the end! He makes choices and acts, and then big stuff happens he couldn't have foreseen, like he's just moving a little rock and a whole mountain falls down...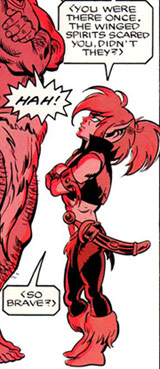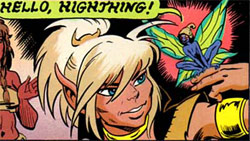 Strongbow
http://elfquest.com/read/index.php?s=OQ/OQ20&p=30
"If clinging to the way was a kind of blindness... then I wish I had never be made to see!" Strongbow put words on something I already knew as a child, that too much lucidity isn't healthy for day to day life. I've been looking for the now of wolf thoughts ever since.
Dart
http://elfquest.com/read/index.php?s=KingsOfTheBrokenWheel&p=78
This one was my little guide in the desert, I owe him a big howl!

I liked him for doing "what is right" without turning hard skulled or narrow minded. "What is right" not as a fixed thing, what feels right to you now and here, even if it's not easy or unusual. It can mean facing your father and telling him "I know you don't like it but this is what I want to do", or telling your friends you don't agree with what they're doing (Mender...) Or taking lifemates of the same gender (I know it doesn't matter to them, but it did to me!! Those elves helped me get ride of stereotypes I didn't like in the first place but couldn't do without)
I loved him so for not seeing humans as monsters, and for seeing hidden potentials in the sunvillagers.... For seeing people as "people" first, no matter their differences. Dart taught me to follow my own heart rather than my fears or other people ideas. I'm still learning.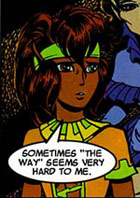 And a big howl for all the elves with a sense of humour, that has taught me most of all!