Not sure if manga has reached out to anyone else via PM, so I'm posting this just in case.
She PM'd me (back in January I'm afraid) that the site won't allow her to post via from her phone. Is anyone else having this problem?
If so, does anyone have any advice?
I figured if manga or anyone is having this problem, then at least they could see this thread on their phone and read it and hope it helps
Apologies again manga for responding so
shamefully
late!! I am still without a laptop myself and rarely get to use my sons with them both at school or working on assignments on theirs all the time

Miss you guys so much



I hope everyone is doing well. It's crazy here with all the work schedules going on!
___________________________________________________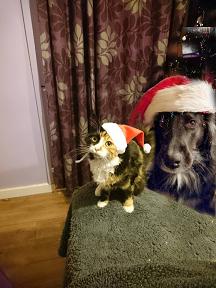 Compliments go to Embala for bringing a British cat and an American dog together via Photoshop!